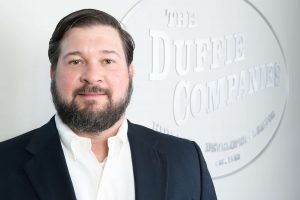 Jeremy Duffie
President
Jeremy Duffie represents the third generation of family ownership and leadership for Ralph J. Duffie, Inc. and The Duffie Companies. Jeremy is the President of Ralph J. Duffie, Inc. and oversees all day-to-day operations for the various family businesses. Over the last 20 years, Jeremy's vision and values have helped create a vertically integrated group of companies positioned to succeed in the Washington, D.C. market. Jeremy's experience includes new developments in excess of $300 million including more than 2,000 multifamily units, 250,000 square feet of office, retail, industrial, and hospitality space as well as the repositioning of over 2,500 multifamily units. Jeremy is responsible for directing all acquisitions, dispositions, and financing for Ralph J. Duffie, Inc. As long-term holders of real estate investments, the Duffie family understands the importance of durability and sustainability in its developments. Since 2009, Jeremy and his team have brought eight LEED-certified projects to market with the most recent five achieving LEED Platinum certification.
Jeremy graduated from Southern Methodist University with a degree in Business Administration in 2000 and lives with his family in Bethesda, MD.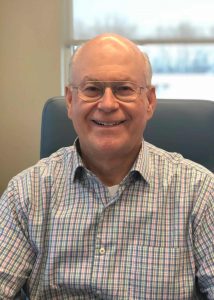 Jonathan Duffie
Executive Vice President / Chairman
Jonathan C. Duffie serves as Executive Vice President and Chairman of Ralph J. Duffie, Inc. He has led the company for over 50 years. Jonathan started with the company on the ground floor quite literally. He was first employed as a laborer with stops as a project foreman and construction superintendent before moving into the front office and taking over the company reins in the late 1980s.
Throughout the last 50 years, Jonathan has garnered a wide range of experience during this time including single home construction developments throughout Maryland, office construction in Washington, D.C., and the surrounding Beltway area. Additionally, Jonathan was instrumental in the creation of thousands of multi-family units and apartment complexes in the region.
Jonathan was also key in the creation of the Duffie Boatworks.
Justin Duffie
Vice President / Asset Management
After playing football and lacrosse for the University of Maryland where he earned a degree in communication, Justin came back to work for the family business. Presently, Justin oversees the asset management for Duffie, Inc.'s several thousand apartment units.
He began in the field working on apartment restoration for a few years and then eventually oversaw the quality control of the renovations. Justin's next focus became growing the tenant renovations business as well as the landscaping business through many relationships he had built with management teams during his time in the field.
Jonny Duffie
Vice President / Operations
After graduating from Southern Methodist University where he earned a degree in Economics, Johnny Duffie brought his diverse skillset to the family business where he worked his way to Vice President of Operations. Jon spends much of his time in the field, helping teams with heavy equipment operation and repair. Jon also prides himself on helping on any and every aspect of a job to help get it done.
Away from work, Jon, like other members of the Duffie family, enjoys sport fishing. This love has lead him to entering many fishing tournaments with the family in both the Atlantic and Pacific Oceans. But the passion didn't stop there. Jon was instrumental in the founding of Duffie Boatworks, which designs custom sportfish yachts. This company combines Jon's love of design with the challenges of creating a fine vessel.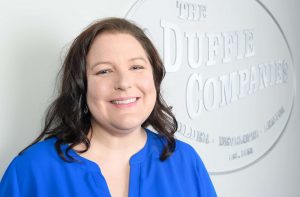 Jennifer Wowkanyn
CFO
As CFO, Jennifer Wowkanyn oversees the accounting and reporting, finance, budgeting, banking, insurance, and human resources functions for Ralph J. Duffie, Inc. and related companies. Leading the accounting department, Jennifer sets goals and priorities for the team focusing on the areas of asset management, property management, development, and construction. She also develops and maintains relationships with outside service providers and partners. Jennifer analyzes the ongoing financial performance of the companies and develops cash management and financial planning strategies. She is also responsible for handling all financing for the companies, creating and utilizing complex modeling tools to perform analysis and underwriting for various real estate transactions including refinances, dispositions, and new acquisitions.
Jennifer holds a bachelor's degree from the University of Maryland Baltimore County and is a Certified Public Accountant in the State of Maryland. Jennifer joined Ralph J. Duffie, Inc. in 2013 and has nearly three decades of experience in the commercial real estate development, property management, and construction industries. Early on in her career, Jennifer worked as an auditor in public accounting for seven years, then for a publicly-traded real estate firm, and as a controller for privately-held companies.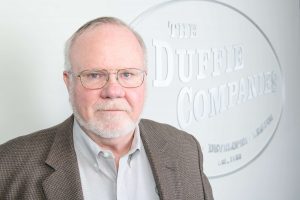 Mark Ramsey
Duffie Family Office CFO
Mark Ramsey has been a member of Ralph J. Duffie, Inc. for more than 30 years serving in various capacities since then, including being its Chief Financial Officer. Mark was instrumental in helping finance many of the development projects with values totaling over $200 million. Mark specializes in navigating the HUD financing process and has helped with securing funds for well over 2,000 multi-family Units. He is currently the Secretary and Treasurer of Ralph J. Duffie, Inc. and serves on its board of directors.
Mark's recent focus has been on the Duffie family and their associated trusts, serving as their family CFO.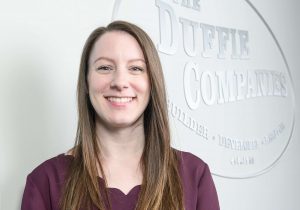 Ashley Scherer
Controller
Ashley Scherer joined Ralph J. Duffie, Inc. as a Senior Accountant in 2016 after working at a large public accounting firm as an Audit Associate. Ashley joined Duffie after graduating summa cum laude from Salisbury University with bachelor's degrees in both Accounting and Marketing. She is a Certified Public Accountant and Certified Management Accountant in the State of Maryland. Her talent and contributions to the company were recognized, and she was quickly promoted within the organization.
Ashley supervises the day-to-day accounting functions for the company and related entities. She is heavily involved in the accounting for asset management, development, property management, construction, and service-related businesses. Ashley also oversees staff development and training, with a focus on creating efficiencies through her expertise in Excel. Utilizing outside management reporting, Ashley performs in-depth financial and budget analysis on operating properties. She also works closely with the CFO on financing initiatives, including acquisitions and refinance transactions. Coordinating with external firms, Ashley also manages all tax, audit, and insurance requirements for the companies.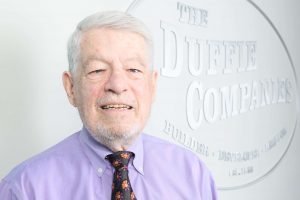 John Henise
Leasing & Property Management Director
John Henise is the Leasing and Property Management Director for Duffie Inc. and has worked for the 3 generations of the Duffie Family. John holds a Bachelor's Degree in Business Administration from Columbia Union College in Takoma Park, Maryland. John is crucial in the property management operation as he helps provide leasing for residential properties, commercial office space for both government and private sectors, as well as the retail space.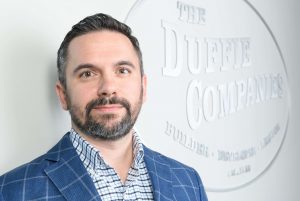 Tim Kamas
Vice President Development & Construction
Tim Kamas joined the Duffie team in 2016 bringing a wealth of knowledge from the commercial construction sector. With more than 15 years in the industry, Tim has taken a hands-on approach to development and construction with a focus on value-driven analysis and project execution. The Duffie team strives to build high-performance buildings with a focus on durability and efficiency.
Tim is a LEED accredited professional and has worked on LEED-certified projects totaling more than $1 billion, including five projects with the Duffie team earning Platinum certification. Tim holds degrees in Psychology and Criminology from the University of Maryland College Park as well as a Master's in Business Administration from the Robert H. Smith School of Business.
Tim is a lifelong Maryland resident growing up in Hagerstown and currently resides in Severna Park with his wife and children.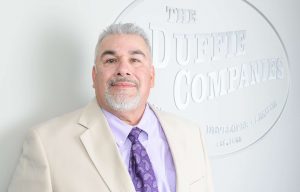 Jim Saenz
Construction Superintendent
Jim Saenz brings more than 35 years of experience in commercial, retail, hospitality, high-rise and garden style multi-family construction. Saenz is Duffie, Inc.'s Construction Superintendent and has overseen such projects as the Dental Offices of America, Bobby Mckey's Piano Bar at National Harbor, Waldorf Ford's car showroom, a 17-story high-rise in Tysons Corner and a 49-unit apartment building in Frederick, MD.
Jim started his career as a carpenter, working his way to Job Foreman, Assistant Superintendent to Senior Construction Superintendent responsible for all aspects of construction in the field. He attended Anne Arundel Community College, receiving an Associate's Degree in Construction Project Management.
In his spare time, Jim enjoys spending time with his wife, camping, surf fishing and restoring his Mustang GT.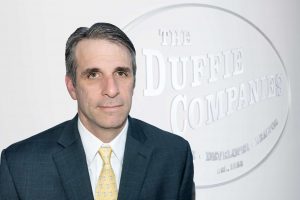 Ted Spengos
Senior Project Manager
Ted Spegos has 25 years of experience in the housing industry and is Duffie, Inc.'s Senior Project Manager. Ted is a 1994 graduate of Salisbury University with a bachelor's degree in Business Administration.
Ted has been essential in community development, including multi-family construction, commercial development, as well as property management in single family homes, retail centers, apartments and even boat building facilities.
Ted is also a contractor license holder.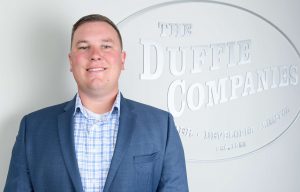 Alex Cederbaum
Project Manager
Alex Cederbaum has worked his way up from an equipment operator to becoming a project manager with Duffie, Inc. Alex has brought more than 7 years of experience to the team, including commercial and multi-family construction and renovation.
Alex works on both the new development projects as well as the large renovations. Alex also helps with snow removal operations and fleet acquisitions.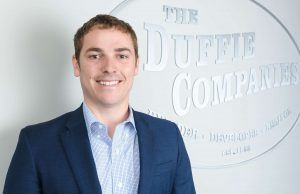 Matt Hungerford
General Manager CCS